So I didn't go to bed, I got a bug up my ass about a shirt/logo I did ages ago, go on look through my blog and you'll see it...

It's slightly annoying when you design something for a purpose and you don't get to see it live out it's days in that form, and this is probably a good example. I designed this logo for a friends band ages ago, and as much as they liked it, they are poor and can't afford to send a 3/4 colour t-shirt design to the printers! To be honest at the time I was just doodling for want of a better way to describe it, now with a new avenue available to me, I have re-thought it a little and posted it as artwork for sale on emptees. I doubt it will ever get sold as a shirt design, but it's nice to think it's out there in the format it was planned to be used in, I guess until it gets sold, the design is mine(?), so I might re use it for something else...

I would probably give it away, just to see it get printed on a shirt and get one for myself, not saying I will give it away, but to see it live out its days the way it was intended would make me rather happy.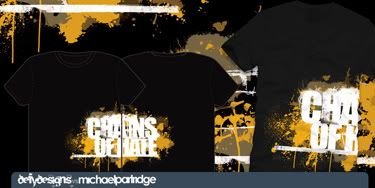 I should really go to bed...
Defy

Link in time...
Shirt on emptees