Well, not much to add apart from the fact that I won! Which all in all is pretty dam sick!

See for yourself

Much respect to the other winner Josh, click here to see his emptees portfolio.

"We had so many brilliant and innovative designs entered into the competition that we had trouble picking between the final 5. In the end, we settled for two winners so congratulations goes to Josh Ray for his Technics (S)Platter style T-Shirt and also Michael Partridge for his innovative "We Are As One" design. Your prizes are on their way to you gents!! "

I have always like admitting to process, so here we go...




First version of the vectors, yes the grouping went haywire on the ghettoblaster, but that is only a rough.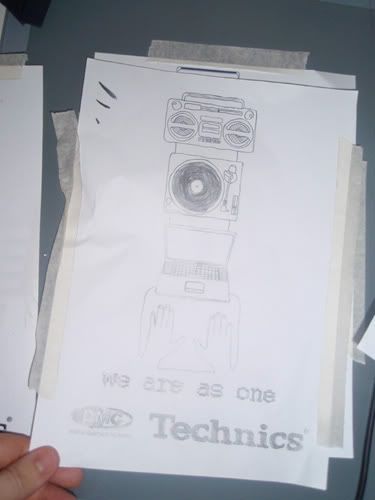 First drawing from vectors, no idea why I had that font on there, but it looked shit, so that was the first change, generally pretty happy with the rest of it though, this is where I first tried the idea of connecting the parts, but I just wasn't sold on how they were connected through the drawing, so attempt number 2....




Print out 2, this time with a different logo, I'm not entirely sure why I printed it out again, made sense at the time...




I've always loved a musician called Jonah Matranga, he performs under the name of OneLineDrawing, so this is what I tried here, but just didn't work on this format! It just looks messy.

I am not going to lie to you, I had a version I was pretty happy with, but needed to figure out the best way to finish this off, I need a new version of the logo and the last part of my idea...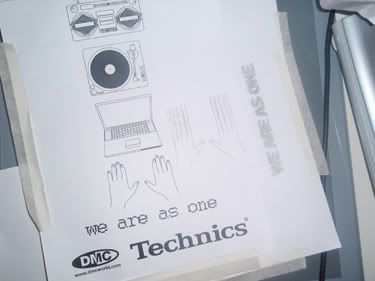 So I drew the logo on the side of one of the other pieces of paper, and drew the hands again, this time with the fingers extending and at this stage I cheated. I stopped drawing and started photoshoping...

And the rest is history, design finito!




Some paper, 2 print outs, a pencil, a lightbox in my (well my girlfriend's) desk, a scanner and a good idea. Makes me happy!

I am rather happy with this one....
Michael