This really is an oldy! 2004ish maybe, I wish my memory was better.  Second year of my degree, friends band needed a cover for their EP, so they asked me.  I was only a second year, it was a big deal....

This will probably remain one of my favourite design accidents. They asked me to do a logo and a cover, I had found a typewriter, now I love typewriter's they are so magically individual, no 2 letters are ever the same, its amazing! So I was sat on my bedroom floor with typing out the the bands name over and over again in different ways, so I had plenty of different ways to scan, clean up etc for trails for the logo. Now I don't know about you, but it is always nice to have a fully fledged UREAKA(!!) moment, and boy did I have one staring at the piece of paper sat infront of me!




This was what I saw, and this is the first picture I took! I took a few more, tired it in Black and White, but it still looked its best just as I'd seen it! Washed out, old looking brown plastic aswell!

It ended up looking like this...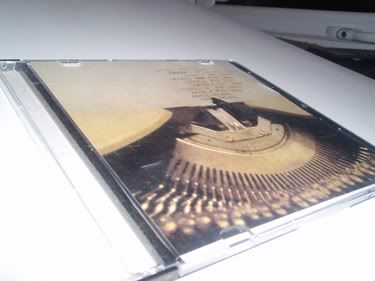 I'm not going to lie, to this day I remain a little bitter that after sending the "proof" off to them, with the comment "if you like the front I'll finish it off for you." But no, a few weeks later I was sent that CD with piece of white paper on the inside. Deflated, yes a little, but still happy to see a cool idea out there....

I'm not going to link you to the band, they have long since split, so it's probably not that important...

Bedtime
Michael

Links
Larger Version