Well March was quiet, mainly because I was busy and secondly because my battery had died which meant I was ignoring my computer and not chasing things, but thats beside the point, a new poster and another one for TJ's, which always makes me happy!
Metal is good, there is no escaping it! Metal is a great thing in this world. So a chance to make a poster that was more METAL was exciting.
Blaze Bayley, now do you remember him? I do but for different reasons to most, he was in a band called Wolfsbane and was in Iron Maiden (according to Wiki, he was in there for 5 years! Now that was a suprise!), I remember just getting into Iron Maiden when I was about 14 and them changing from Bruce to Blaze, and really enjoying his time in the band, trust me I think I'm one of the only ones! But anyways after leaving Maiden in 1999 he went solo and has continued touring in various forms (solo and with a Wolfsbane reformation).
I will never forget being in Bristol in 2002 at a club night and in a drunken haze thinking it was a great idea to spend the night so we could see him play there the day after, lets ignore the fact that I only live a short journey away, I was hell bent we should party the night away just for Blaze! We didn't because I lost interest after a few more beers...
The poster.
It needed to be suitable for someone who was in Iron Maiden (and someone who has an album called "The Man who wouldn't Die") so I started thinking skulls, doom etc.
Version 1: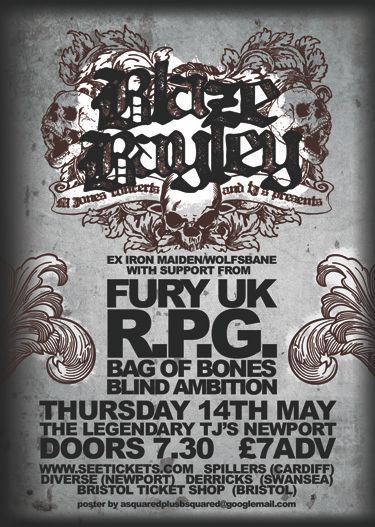 Version 2:
Black and White version: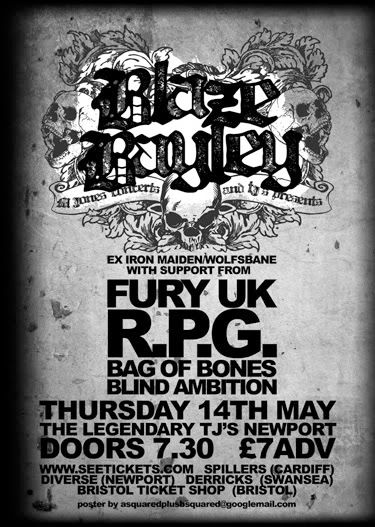 Now I will admit that this isn't all my work, some credit has to go to Jimiyo, and his wonderfull stock vectors.
Back to work...
Michael
P.S.
Only just looked at his myspace, perhaps I should offer my skills...
Links
Larger Versions
Jimiyo
Blaze Bayley