I recently played a gig with a band called AC4, the members of which graced such incredible bands as The International Noise Conspiracy and the enormously influential and sadly missed Refused, sorry I'm getting off point.
I also went to an event in a local venue called "Design Wars" (great event put on by great people, links later), but the challenge was put to a small group of people/designers to create some album artwork, using words chosen at random (for band name and title) and the genre was also chosen at random. Each group was given 40 minutes to then create artwork from scratch using the equipment and images that were on the desk! I was in a group with 3 of my friends, 2 code geeks and a european union schmooser, we didn't win, but it was great fun! AND I liked the concept of designing something in 40 minutes!
So with a gig coming up, with a poster I wasn't fussed on...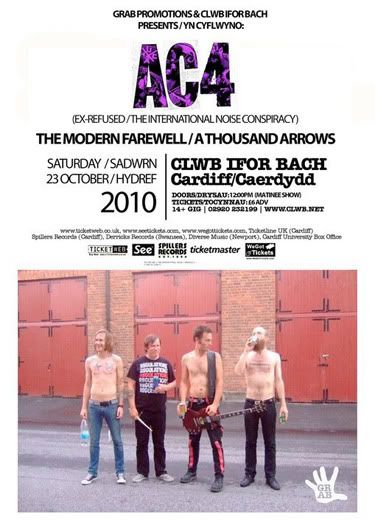 ...again nothing bad, but I need a poster to try and design in 40 minutes! So I limited myself to photos of the band (as in the original poster), and tried to focus on the main details of the original. The biggest concern I had was showing the band in their normal environment, they are a hardcore band after all and the original picture wasn't exactly complimentary, even the band joked at the gig, they wouldn't want to watch themselves if they saw that photo!
So here we go, poster in 40 minutes!
Its not a major change, but I think its much cleaner.
Enjoy
Michael
Links
Largesr Version
AC4 on Myspace
Design Wars Official Blurb
Photos from Design Wars