This poster was designed for a competition, now I am not normally one for competitions, but there was something about this film that caught my attention and clicked something in my brain that said, "make the poster brainless!"
Here is the official word from them:
"Clint Eastwood wannabe Jimmy finds escape in his shoot 'em-up video games - which leads to a caffeine-induced flight of fancy including Mexican stand-offs, mischievous gnomes, and invisible bullets!"
As it happens, I wasn't doing anything when the I saw the comp posted (I was idly time wasting on the internet), and I've been telling myself that I should make more positive steps when things like this happen, so this seemed like a good reason to stop faffing and start doing something.
I'll cut to the chase, I enter and won. Meet the poster for a special film that is part of the Virgin Media shorts competition.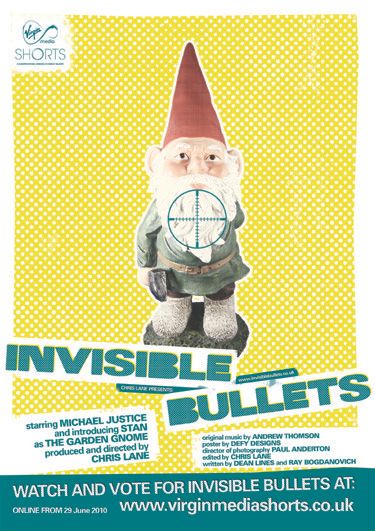 The poster might be a little lost on you, if you haven't seen the film, so be ready for a lot of links to follow! Fair play to the team behind the film, they have done a wonderful job of promoing the film, just follow the links...
Hold your breath...
Michael
Links
Largesr Version
Watch the Film
Invisible Bullets Homepage
Stan the Gnome on Twitter