So August must have seemed incredibly quiet, on the contrary! August was busy as sin, I've just been waiting for loads of things to get finalised and get live, on top of the fact that I have a job that I have started that involved signing a confidentiality agreement, a non-disclosure agreement and some other form I can't remember the name of that I had to sign! Also I have recently (anyone who has followed my twitter for the last week will know that) been working on making powerpoint presentation. Harder than it sounds, well actually it's easy to make a rubbish one, we've all seen them, but it is difficult to make sweet looking one that works. Rant over, plot.
I was in a band, and we developed a fan, she was great, came to most of our shows, supported us loads and then after a year or so ago, she started her own band! Her name is Sam, she is awesome.
To have the opportunity to do something cool for someone who always supported me, has left me with a big ole smile on my face!
Ladies and Gentlemen I give you Cowboy and the Corpse.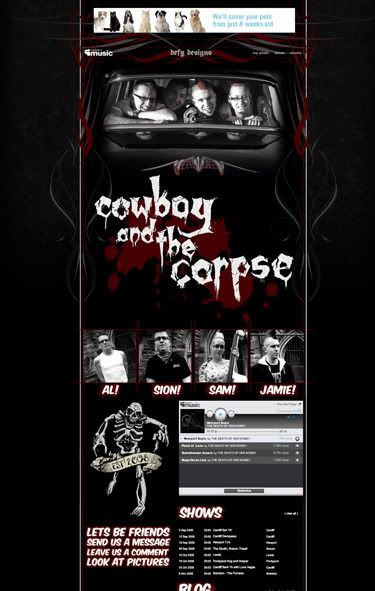 There is a massive list of photographers I should link, but I find their info right now, so I will add it later.
Peace out
Michael
Links
Larger Version
Cowboy and the Corpse Myspace