Well I do love it!!  I think it is a really great idea, the brief was to create some form of promotional material that discourages people from dropping gum. It costs so much money to clean up!! It costs approximately, if memory serves, 17p to remove each piece from the ground!! And when you think a pack costs 30 something pence (don't know don't buy it) it is an insane amount of money being thrown at a problem.

I am really proud of this result as it was shear research that got me there, research into disposal methods, solutions that have been trailed, comparative solutions....and most of the solutions that were in effect were stupidly expensive, plastic pouches, some really disgusting posts/walls covered in gum...

I've always been aware that negative slogans/advertising don't have any effect whatsoever, look at the average smoker, you could put pictures of brutal deformed lungs fill with tar (wait they do that now) and it does nothing to stop them smoking, I found a completely random study done in Holland's public toilets where they printed a fly on a urinal. I won't repeat the statistic as I can't believe that they measured it, but it's safe to say it stopped people pissing on the floor as much because they were aiming for the fly! So here research said something funny...

Roll on the alternate uses for chewing gum, I knew full well that these would probably have to come with an idiot warning on them, but I love the idea. There was an abandoned idea involving superheroes. So I tried my best to come up with as many ideas as possible, I think I got to 20 something, but to be honest I was clutching at straws past 10.

So I focus on the few that would make the best visuals, and did my homework into instructional images, that usually come on planes and warning cards...

And this is what I came up with....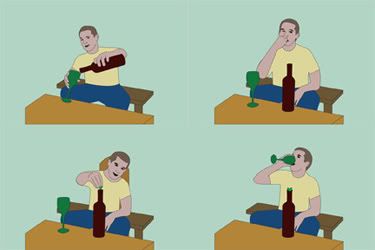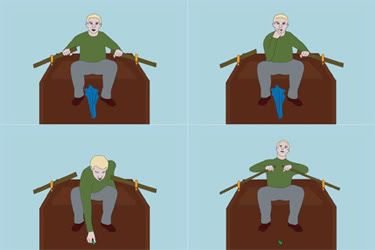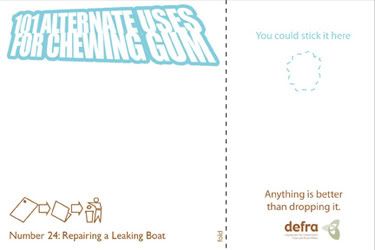 Somewhere in the final stages, this went from just being a postcard, to the idea that you could stick the gum on the postacrd, doubling its usefulness! This came up when I looked back at the research, realising that it would costs roughly 5p per card, thus saving 12p on cleaning costs.

Please don't judge the quality of some of the drawing to harshly, I wanted to learn how to use illustrator at the time and this was my baptism by fire, I can see things I'd change now, but I still think it is a great idea and that's what counts! I still think the back is a lovely combination of colours and style, it's formal enough to be a government thing, but funky enough (colours and logo) to be cool!

Other things to do...
Michael

Link
Larger Versions