From time to time it has to happen! Learning is good! Learning is fun! I sound like I should be on Sesame Street!

Anyways, new poster to make, and this time I had to get it all presented right to go to printers, so I did most of this one in InDesign! And learnt about saving it all the right way in PDF format for the printers!! Go me!!

But this was a cool little design, I must confess to abandoning 3 ideas completely because I was using the "Crime in Stereo" logo, which is some messed up form of Helvetica, so the ideas I had were abandoned in the early stages, because the text just fit with the other ideas.

So I look on my shelf, pull out "Crime in Stereo is Dead" and got part of the idea for it from there,(click on me if you want to see it).

So here it is my most recent offering!




And here is the special bit for me....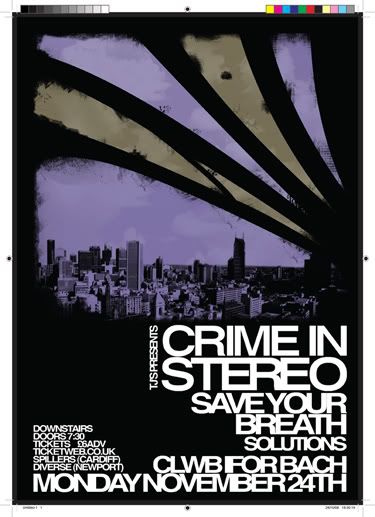 PDF print ready! Oh yes, I learnded sumthink good!

I'm happy.
Defy

Links make the world go round
Larger Versions
Crime in Stereo