A few years back I played a show with a very friendly gent from New York called Mike Borgia, super nice guy, super talented as well.
He has recently produced a record for a very talented young lady called Juliet Echo, and for some unknown reason he decided I was the man to get the artwork designed for her record, oh wait, he's an old friend, that's why. Taking note people, you can do good work for your friends!
So anyway back to the album design...
The album title is 'Saturated Youth', I was sent a concept sketch, which will for ever be kept for me to chuckle at (love you guys for doing it though), which gave me my initial direction. Me being me, I did it, looked at it and decided I wasn't fused with what I had done, so decided to do what I thought was right as well.
You have no idea how many photos this cover went through to finally get the right feel for this!
I am glad to say that all the work I did on the discarded front cover didn't go to waste in the end! It ended up being the back!
This went through a few stages aswell, one will be remembered as the photo overload! But I must confess to the fact that I was steered towards this be a client who loved it. Don't get me wrong I don't hate it here, but the original just wasn't front cover material.
Oh yeah there is an on body too!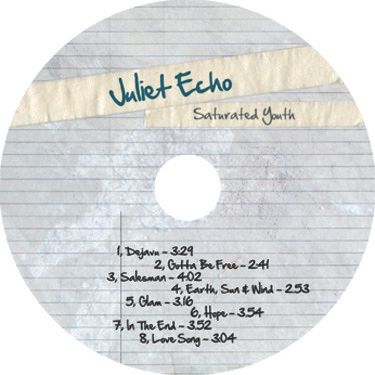 Not a million miles away from the anything else, but I think it will be a nice thing in its physical form.
Time to finish this post.
Michael
Links
You can buy it here
Larger Versions
Juliet Echo